Top 6 Christmas Gift Ideas for The Wine Lover on Your List
With the holidays fast approaching, you may be at a loss as to what to get for your loved ones. Here are our top 6 Christmas gift ideas for your favourite wine lover that you can pick up at Hardgoods.ca.
#1: Veneto Automatic Wine Opener
Perfect for the person that likes to sit back and let technology do the work! This Veneto Automatic Wine Opener makes opening wine a breeze; simply place it on top, and let it take care of the rest. It's capable of removing both natural and synthetic corks, so whether you're opting for a cheap or fancy bottle (no judgement, we swear), it will still be compatible. The Automatic Wine Opener also includes an AC adapter and charging station for added convenience, and even a seal cutter so you can get right to the point without messing around. You can see it here!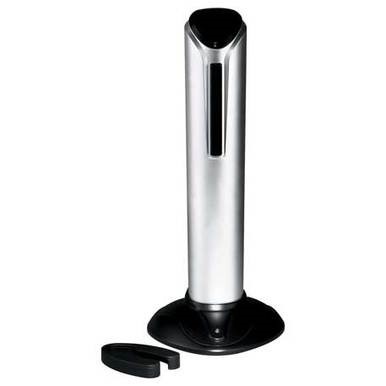 #2: Corkcicle® Wine Chiller
This one is a real show stopper (pardon the pun). Impress your guests this holiday season with perfectly tempered wine! All you need to do is freeze the Corkcicle® Wine Chiller before putting it into the bottle. It will maintain the ideal temperature for chilled white wines, or bring down the temperature of those heavier reds. The Corkcicle® (which also doubles as a stopper) is 100% BPA free, so you can chill your wine 100% worry-free! It comes in a classy black box, and looks even better when it's in the bottle. Check it out here!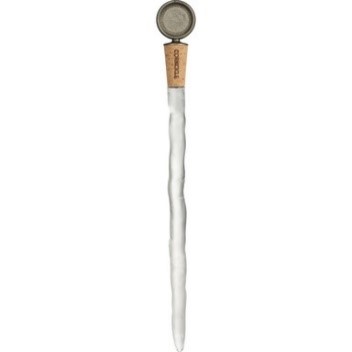 #3: Executive Wine Collectors Set
The Executive Wine Collectors Set is a truly visually appealing Christmas gift idea for the wine connoisseur on your list. The nine-piece wine set is contained in a beautifully polished cherry wooden case, and contains everything you need for the perfect bottle of Syrah or Chardonnay: An ergonomic wine opener, foil seal cutter, drip ring, thermometer, two wine stoppers and even two replacement corkscrew bits. This one won't disappoint – you might want to pick one up for yourself as well! Check it out here.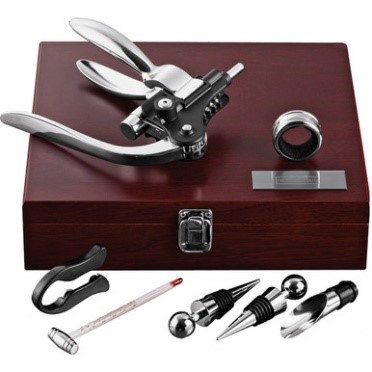 #4: Happy Nest Bottle Stopper Set
An excellent stocking stuffer (and the price is right – this set is less than $10)! The Happy Nest Bottle Stopper Set comes in twos, and is available with red and black, or blue and green stoppers. The stoppers themselves are made of durable silicone that will provide an airtight seal for any bottle. All serious wine lovers know how important air control is for the taste and quality of your wine. Throw this in a stocking this Christmas!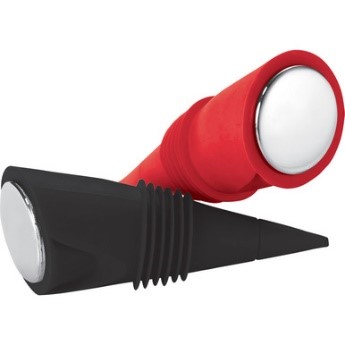 #5: Executive Napa Wine Case
Instead of simply wrapping the wine you're giving during the holidays, make the experience memorable (and add another gift while you're at it!) with this Executive Napa Wine Case. A gorgeous polished cherry wood case houses a stainless-steel stopper, and a corkscrew that includes a foil seal cutter. Not only will this make your gift special, it provides a classy wine accessory that will continue giving long term enjoyment for the wine-o on your list. You can see this one here.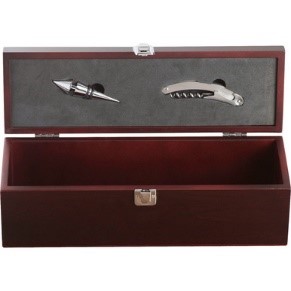 #6: Belgio Wine & Cheese Ensemble
Is there a vino fan out there that doesn't like cheese? The entertainer on your gift list will love this Belgio Wine & Cheese Ensemble. The six-piece set packs away nicely in an elegant black case. Inside you'll find a wood cutting board, three cheese knives, bottle stopper and a waiter corkscrew. The cutting board features a grooved edge that will keep crumbs off your table, and the knives included in the set are designed for crumbly, soft, hard and aged cheeses, so you can entertain in any style you please (it also looks perfect for a bar of dark chocolate…just sayin'). Bring on the wine and cheese this holiday season!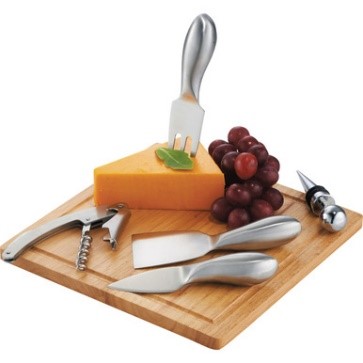 So, there you have 6 Christmas Gift Ideas for the wine lover (or lovers) on your list. Be sure to check out the other wine accessories we have available to get even more ideas, and let us know how they went over – we'd love to hear your feedback! Happy Holidays!
Recent Posts
A friendly reminder that our office will be closed on Monday, September 4th in observance of Labour …

Hi everyone! Just a friendly reminder that our office will be closed on Monday, August 7th, in obser …

In observance of Canada Day this weekend, our office will be closed on Monday July 3rd. We apologize …